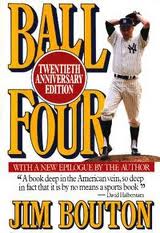 For decades I've been hearing about Ball Four, a raunchy, unflinching firsthand look at the 1969 baseball season through the eyes of knuckleball pitcher Jim Bouton, who played that year for the expansion Seattle Pilots and the Houston Astros.

Though I didn't find the book nearly as raunchy as I expected. Or hoped? Sure, the players partake in unsavory activity, and their language is coarse, but the outrage over the publication of the book was more a reflection of 1969 than anything revealed in the book. Baseball back then had a reputation to uphold. But that reputation is so shattered today that the escapades described in the book seem quaint.

Particularly outdated are the many references to salary, which was paltry. Players had little leverage, they were treated unfairly, but the pendulum has swung so far in the other direction, with obscene multimillion dollar salaries, that the old system comes off as refreshing. For instance, Bouton describes how he had to fight the Seattle Pilots for $88 they charged him for banging up a door.

Bouton doesn't offer any deep insights, but this is a book well worth reading because (a) it's hilarious; (b) it offers a realistic behind-the-curtain glimpse at what it's like to have to perform in the national spotlight; and (c) it's brutally honest, about egos and flaws and aspirations. I can understand how some players and managers might have gotten upset over what Bouton had written.