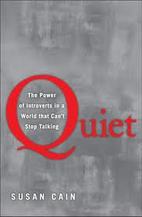 One of my favorite lines from
Quiet
by Susan Cain, which I highly recommend, is a quote from Dr. Suess: "'In mass [children] terrify me.'" In my long teaching career, I don't recall being terrified. In fact, when I stand in front of a class, I feel energized and enthusiastic because I'm ready; I've prepared; I have something important to impart; I feel as if I belong because this is my role. But put me in a chaperoning position at a football game, and I suddenly feel some of that Seussian terror. Maybe not quite terror, but I'm not exactly at ease either.
After finishing my first year at DePaul University, I took a job selling books door to door for a company called Southwest, based in Nashville, because I was determined to overcome my shyness. The company trained you for a week, then sent you to a territory far from home. I talked more that summer than I had in my previous 18 years on this planet. But I was so shy that I needed two more summers to internalize any lessons I'd taken away from all that talking—or maybe I'm just a slow learner.
Allow me to time travel a little further before I get back to the book. When I was a kid, I used to sit on my front stoop for hours reading comic books, which was a joy, but there was a painful side to that as well. I sat there also because often the rest of the neighborhood was at Lake Michigan, and since I didn't know how to swim, I was afraid they'd get the bright idea of shoving me into the water. I'm grateful now for all that time spent alone, but the anxiety of feeling left out and the shame of feeling odd are still lodged deep.
I wish I'd had Cain's book with me on that stoop and when those doors were slamming in my face as I tried to sell books and while I taught and chaperoned. I don't know if I've ever read a book that so precisely explains my life—at every turn. I've taken introversion/extraversion scales before, so I wasn't surprised by the scores on the scales she includes, but I never really understood the reason for the scores until now.
She explains that introverts are not always shy, which is a fear of social disapproval. Instead, introverts may simply prefer less stimulation (which is why I always closed my classroom door); they recharge by being alone (which is why I rarely joined fellow teachers at the bar on Fridays); they may enjoy parties, but after a while they want to go home (me me me); they value thoughts and feelings over activities (yes yes yes).
I also wished I'd had this book as a young teacher and parent. She supplies specific techniques for making introverts feel comfortable, which isn't always obvious, even if you're an introvert yourself. When I taught, I was fond of having students work in small groups to perform one-minute role-plays. I figured this would be a good exercise, even for the quiet ones, because this would be good practice at…talking. (Cain explains how we've been conditioned to place such a high value on extroversion, that we try to tease away the quiet traits rather than learn to accommodate.) In my defense, I didn't require the quiet ones to play lead roles; I didn't have them perform by themselves; I didn't set the bar high on acting. In fact, the worse the acting, the better. Every so often, some of the quiet kids were hilarious, and these role-plays provided rare opportunities for the spotlight to shine on them. I even got a touching note once at the end of the year thanking me for this opportunity.
Even if you're a full-fledged lamp-shade-on-the-noggin party animal, you have introverts in your life, and you will benefit from reading this book. And if you're an introvert, you're already identifying with much of the above and can't wait to click to your favorite bookstore so you can order the book.
Better yet, don't click. Support a local bookstore instead. Or read the inspiring story in this month's
Atlantic
about Ann Patchett and what she's doing to revive the bookstore in her neighborhood: ATLANTIC ARTICLE. While you're at it, might as well subscribe to the
Atlantic
.
I think they allow both extroverts and introverts to subscribe.
If you'd rather click to buy a book, consider Patchett's store: PARNASSUS BOOKSTORE.