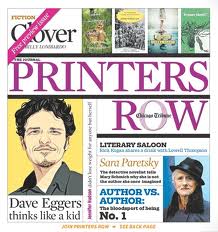 One of my favorite sections of the Sunday
Chicago Tribune
has always been
Books
. I was profoundly disappointed when this section began to shrink and then disappear altogether, except for a page or two in the
Arts
section, which felt like an afterthought.
Ah, but about forty weeks ago, the
Chicago Tribune
launched a new Printers Row books feature that's better than any book feature I've ever seen, and yes, I'm including the
New York Times
. There is a slight catch. The cost of producing such a fine weekly insert requires a separate subscription, which I'm glad to pay.
If you love books, I highly recommend subscribing. Here's the link: PRINTERS ROW.
Included with a subscription is an original fiction excerpt each week, and I was thrilled last Sunday to find one of my own stories at the end of my driveway.