Teachers should have tip jars on their desks. If a class goes particularly well, students can file past at the end and drop in their extra change. An average class—the teacher just doing his job—dislodges not a single dime. Not sure what to do about a truly awful class. Maybe students can drop in slips of paper with tips for improvement. "Yeah, Mr. R, maybe make sure everything is plugged in before trying to use the projector."

Can you imagine the uproar over a tip jar? First of all, I'm kidding, this clarification intended for those who create uproar and who have no sense of humor. Second, I'm not kidding, about the uproar. Teachers lately have become such targets of wrath because—well, I'm not quite sure; the reasons change, but the whiners usually sound to me like spoiled children. "I don't have the summer off, why does she get the summer off, I never get anything." Allow me to whine back for a minute. "Why can't I have my own office? I have to share an office with ten other teachers. And if I want to take a few minutes off, I can't just close my door or hide in some cubicle or cancel class. (shift to less whiny voice now) I have to be there, I have to be ON. There's no coasting. OK, some of my colleagues coast, but no one likes them, and yeah, I agree, we shouldn't protect them. But the great majority of us work hard, work long, some of us even spend our own money on supplies, and for us, this is more than a job, it's a service, we serve, and when we do it well, monetary concerns and summer schedules shrink in importance. When you see your sons and daughters slinging on their backpacks and know they will be in good hands for that day, what's that worth to you? Huh, what's it worth, buddy?"

Actually, most teachers don't need a tip jar because the job requires constant self-reflection. A second period class with the same lesson plan as first period will already be different. We're constantly adjusting, fixing, tweaking, twisting and shouting (dancing, that is, figuratively speaking). Which is why good teachers hate meetings about fixing and tweaking, led by people who haven't been in the classroom in years, because good teachers already reflect, every class period. Tip jar unnecessary.

All this is a roundabout way of thanking my students this past quarter. I was a long-term sub for a maternity leave that ended on Friday, and they tipped me generously. For you literal readers, there was no actual jar, but there was a cake and cookies and a song and cards and an illustration. You can spend an entire year with a class and because both teacher and class are winding down at the same time, a sense of inevitability pervades, along with final exams, so seldom do teachers see cakes and cards of appreciation. While leaving mid-year is strange and a little jarring, I do especially appreciate the sweet gestures of thanks.

Thanks, everyone. I will miss you.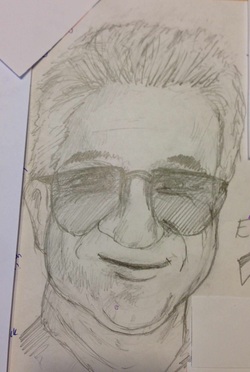 Card for Mr. Romano. Illustration by Joe, with names covered. The drawing looks to me like some movie star from the 80s. If you happen to see what I see, please comment. I've been racking my brain trying to match the face with a name. I think he used to play a lot of cops.