My old man died on February 14th, Valentine's Day, and my mom followed him a month later on March 16th. When people hear these facts, they assume this must be one of those cases where the surviving spouse loses the will to live, which is and isn't true and would take a book to explain, which I may need to write. She did tell one neighbor and one friend, I've since discovered, that she wouldn't want to live without him. But she was incapacitated to varying degrees during her last eight weeks on this earth, so I'm not certain what fell under her will.

We finally sold their house last week, which prompted this entry. It was a tough sell because what was originally a small two bedroom bungalow when they bought the place twenty years ago became a one bedroom house with a newly converted dining room. A second bedroom was useless to them. But a dining room! They, or at least she, envisioned feasts that would spill from the kitchen into this newly converted room that could barely fit six guests. On Christmas Eve, we did squeeze about fifteen people into those two rooms, and my mom and dad were never happier.

Grief is a strange animal. I came home this evening and felt this familiar compulsion to check phone messages because today is Sunday. The urge was faint, I didn't reach for the phone, yet it stirred something in me. Before, on those Sundays when we didn't visit, my mom would usually call to check in, her subtle reminder that we failed to pay her a visit on this beautiful Sunday. Often the reminders were less than subtle. She'd prepare meals sometimes in anticipation of a possible visit. What am I going to do with all this stuff? she'd ask. Such a nice day. I thought you might come over. These guilt-inducing pleas were infuriating and amusing at the same time. I assumed I'd shrugged off the guilt pretty well, but sometimes, even now, it assaults me in waves, like a bitter time-lapse pill without expiration.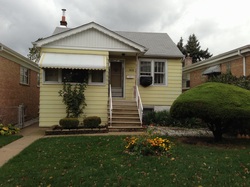 My parents' house, the day before closing this week. It's been a dry summer in Chicago. No one has watered, yet flowers bloom, the rose bush nearly reaches the awning, and the gnome-like bush thrives!