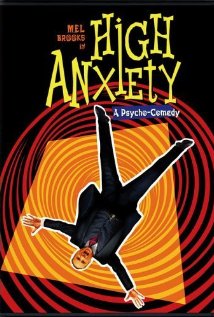 First week of the final quarter. Hope renewed. Effort doubled. Commitment deepened. Actually, we're limping along. A little slaphappy. Thinking about the A.P. psych test looming in May. One final push, and we'll get there, the promised land, where the grass is lusher and skies are bluer than here, today, now.

But we have to wade through a long chapter on mental illness first, a fascinating and troubling unit because it applies to all of us to some degree or in some respect. For me, I'm an expert on anxiety and phobias, which I first discovered after a claustrophobic MRI experience many years ago, followed by an unfortunate seat assignment at the back of a jet and adjacent to one loud turbine engine. (I'm not sure if it really was a turbine engine or what in fact turbine means, but I like the sound of the word.) Over the years, I've been working on my panic and getting better (flying in the front row of the plane helps, and Southwest Airlines has been accommodating; no, I'm not earning free miles for the plug). What I've discovered and what I hope was useful for students to hear, especially the ones who also have High Anxiety (a great Mel Brooks movie) is that we are not in fact afraid of the things we think we're afraid of. Really.

Here's a simple activity I use to clarify what I mean. I had them write down on a small slip of paper the thing that causes them the most panic and dread. Spiders, needles, small spaces, Lady Gaga outfits. They then crumpled their papers and tossed them to the middle of the room. This was not some 1960 feel-good mantra session where fears are shed like flowers in her hair, flowers everywhere (if you can identify that song, you are over 50). What I mean is that you don't fear the needle but the physical dread that accompanies the needle. If someone could guarantee that your pulse wouldn't rise up into your throat when you saw a spider, you'd be fine, yes? It's the dread and the anticipation of the dread that you fear because that's a terror you don't wish on anyone. This seems like a subtle shift in perspective, a cognitive sleight of hand, but the effect can be remarkable. This little trick allows you to examine the dread as if it's outside of you. And it's up to you whether you'll let it in.

Before doing this activity, I had them fill in a fear inventory and asked them rearrange their seating according to their level of anxiety, from lowest to highest. The low group got a chance to convince the high group why they shouldn't be so anxious, mainly to demonstrate that everyday logic isn't usually effective in trying to alleviate another's fears (the previous activity notwithstanding). Interestingly enough, sitting according to one's anxiety level creates no anxiety for students. I point out to them that I would never suggest such an arrangement for next week's topic, depression, and everyone understands immediately. Why is there still shame attached to a condition that afflicts nearly all of us from time to time?

If you happen to be an expert on depression, feel free to comment and I will share your wisdom with students.