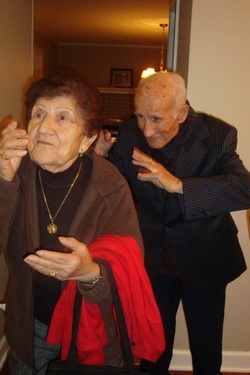 As my father used to say, without a trace of sarcasm in his voice, "Your mother, they no make like her no more."

She was one tough woman, always moving, indestructible we thought. Still hard to believe she has passed from this life.

We tried to get her to pause a few times, to jot down a recipe or two, but that proved impossible. My daughters even planned a cooking day, where they could watch her hands measure and pour. But it was like trying to slow down Michelangelo so you could recreate one of his paintings. Even when we did capture the precise ingredients and did follow the exact steps, our finished meal turned out like child's play. It's like she had magic pots or an enchanted oven. She gave us the ingredients, but she'd forgotten to teach us the spell maybe. Best choice was to sit back and enjoy the meal. And we did plenty of that.

The same magic happened in her backyard garden, where beanstalks soared toward the sky and cucumbers grew crisp and hearty. Like they were trying to make her proud. And the flowers! Neighbors would stop to admire the tall dahlias and the many rose beds of pink and red and yellow. She offered to dig and replant a dahlia in my own yard, but I knew this was futile too because I didn't have magic dirt.

Here's the secret though. There were no spells, no incantations, no special waving of the hands—oh, those hands, those magnificent hands that could pull a hot tray from the oven without mitts. What she had was patience, a kind of religious patience that rewarded her each year with celestial abundance. She knew that if she nurtured these beans in this bowl—and this was a particular kind of bowl too that she intuitively knew would work best—and if she kept them in a cool, dry place over winter, those same beans would be bountiful in the hot days of July.

These two great pursuits of hers, cooking and gardening, which seemed flurried and manic when viewed from a distance, were actually deliberate and measured and fueled by great faith and love.

Now what? We have one small bag of her cavatelli in the freezer, which has become sacred. We found faded scraps of recipes in her kitchen, blotched with oil and smeared with flour, which have also become sacred. I'm not sure how these scraps will help us because even with her direct instruction, we couldn't recreate the meals. But my family is devoted to trying. We will decipher these found scraps, try to recapture what we can: the savor of her crunchy taralli or the texture of her cavatelli, the moistness of her stuffing maybe, though that seems impossible.

Again, the effort is futile. I know this. We don't possess her steadfast patience, her unremitting faith. But it's a noble pursuit, I think. And one day we, with mitts, will pull from the oven a perfect tray of taralli, taking in the full aroma of fennel in those glorious circles of baked dough, though we won't quite know how we did it. But we will chew slowly and call back sweet memories, imagining the abundance of her table that we thought would never end. We will realize with each bite that we were right. And we will smile. Nothing would have pleased my mom more.