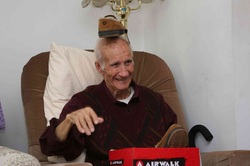 I feel as if I've been flattened by a bus. The past four weeks have been a blur of driving: to school, to the hospital, to the nursing home where my mother now resides, to my parents' house to retrieve mail. Five months ago, they were both at home, well fed and warm and reasonably comfortable.

On Tuesday, Valentine's Day, my father passed at 10:40 a.m. in his own home, in his own bed. My mother, who fell four weeks ago and who remained largely unconscious until quite recently, doesn't know. She's disoriented, and we're still not sure about her prognosis. As my father repeated at the hospital before he was released, it's complicated. And it becomes more so each day.

When I gain a bit more distance, I want to write about the past four weeks and about my grief.

For now, I want to at least mention school since this is a school update. I haven't told my students about my parents. And apparently none of them read this blog, not that I've told them about it. (And they don't see me as an introvert!) I'll probably mention the blog near the end of the school year. I suppose I'm worried that they will become self-conscious if they know I'm reflecting and writing about what we're doing each day.

Until last week, I haven't missed many of my morning classes, always receiving calls about 10:00 a.m. and then cutting out. I want to ask them if I seem any different to them, less focused perhaps. I could be wrong, but I think I've done a good job of pushing aside the personal for 50-minute little compartments and running my normal routines. The afternoon classes? I think I'm focused with them as well, though I've had to scramble to convey my plans to my very able and wonderful department chair who has saved me several times. So while the afternoon classes may have had disruptions, I think I've been diligent and organized.

I take back (temporarily) all the moaning I've done about shortened days. This week we had two, and I felt fortunate because I didn't miss as much as I could have.

I find my desk littered with notes related to death: doctors' phone numbers, medication schedules, hospice hotlines. Ordinarily, my scattered notes include ideas about lesson plans or story ideas, all life affirming. I look forward to getting back to that normal mess. I think that's what my old man would have wanted. If I ever called him from work, he worried that the call was interfering with my job. Family and work were utmost to him. The last few days, this refrain keeps hitting me: whatever goodness there is in me came from him.