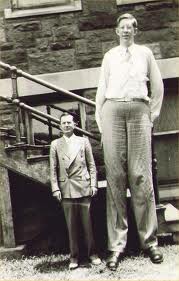 Robert Wadlow
Tallest Man Who Ever Lived
I've adopted a theme song for myself. Actually just a line. From a John Mayer tune: "I'm bigger than my body gives me credit for." The only time I feel tall is when I visit my parents. My dad is five-feet two, and my mom is well under five feet. So at a towering five-feet six, I shouldn't complain, I suppose, even though society seems to proffer privileged status to those of elevated stature. Within limits.

This week we discussed the endocrine system, which highlighted why we should be satisfied with the normal glands with which we've been blessed. The photo above illustrates what happens when the pituitary gland goes haywire.

I had a reading this week at the beautiful Des Plaines Library. Across the street is Square Deal Shoe Store, which has on display the size 28 shoe of the infamous Robert Wadlow. I took this picture. The shoe on the bottom is size 8.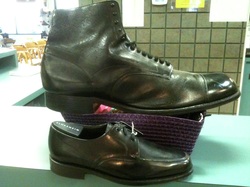 Before he died in his early twenties he wore a size 37 shoe and grew to 8 feet 11 inches. In class, we measured this height, and to walk through our school hallways, Wadlow would have had to slouch considerably.

We also dissected the nervous system. Not literally. I'm all for simulation when it comes to that. The "dissection" consisted mainly of me drawing an enlarged neuron on the chalkboard and having students role-play the different parts, which never fails to instill in me an absolute awe of the workings of the human body. I mean, how the hell does the brain know that a particular area on my calf muscle, for instance, has a light scratch? A pain impulse reaches the brain, sure, everyone gets that, but the precision of our awareness is remarkable. Countless signals need to occur in concert. That we remain largely unaware of these little miracles that happen continuously—they're happening now—is a miracle in itself. That we take the miracles for granted is okay, I think. I don't need to be constantly reminded of the magnificence that is me, contained in this glorious, tall enough, five-foot-six frame.