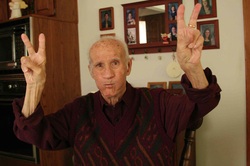 A few posts back, I highlighted my old man's wisdom. A couple of weeks ago, on his 91st birthday, I snapped this picture, which I think is an apt accompaniment to that post. This is Pop doing his famous Richard Nixon pose.

I thought I'd offer equal time to my mom's wisdom, which is a little harder to come by because most of the talking she does consists of doling out recipes or complaining about some lady in the neighborhood, never by name, just "some lady." But it's always a different lady, someone we've never met. We're supposed to know.

She has offered up a few gems here and there. A while ago, when she heard that my late father-in-law was cremated, she recoiled in shock. The next time I saw her, she insisted that she didn't want to be broiled. Months later, during one of my dad's hospital stays, she looked me in the eye in the waiting room and informed me that she didn't want to be outside. I knew what she meant—no broiling, no burying outside—but I didn't necessarily want to have this conversation and played dumb for as long as I could but finally assured her that she would be in a temperature-controlled climate for eternity.

For their entire lives, in fact, they've been obsessed with temperature extremes. When I mention this to other Italians with older parents, they laugh because they know. I can be sitting at my parents' house under an open window when it's 90 degrees, and they'll insist on closing the window because of the breeze on my neck. Smash the window, I want to tell them. And a ceiling fan? A whirl of wind over my head? Forget about it. I've never seen the fan turned on at their house.

The broiling nugget is amusing, I admit, but I wouldn't call it wisdom. My mom's wisdom comes not from words but from her actions, from her hands. She can pull a hot tray of lasagna from a stove without oven mitts. My wife and kids and I marvel at this every time. She kneads dough about every day. If she's not in the kitchen, she's in her backyard turning dirt and planting tomatoes and eggplants. Last week, after a visit, she wanted to send me home with a jar of red gravy she'd just made. The gravy was hot, so I grabbed a dish towel and used that to wrap the jar because my hands are human. That same towel ended up in our laundry, and when it was washed and dried, I held it up to my face to see if it would still smell like my mom's house. Sure enough, it did. I tested this on my daughters, not telling them where I got the towel, and they confirmed the source of the scent as well. And this I have to add: breathing in that aroma, which speaks of hours of toil at one of her two stoves, provides a kind of comfort that I can't begin to describe. The aroma takes me back not only to my childhood but to the old country that I've visited only a few times, and I feel a vague but powerful ancestral pull. From a little dish towel.

And here's what I wonder. I wonder, once they pass, where will I be able to inhale that warm scent? Which may sound selfish, I know. But where in the world am I ever going to find that again?

One thing I know for sure. The next time I visit, in a day or two, I will take another towel. But I will see how long I can go without throwing it in the wash.

Here's a photo taken the same day as the one above that I believe illustrates my point.